PROJECT
2017 Christmas Lights Spectacular in Australia
Christmas Lights Spectacular in Australia Hunter Valley Gardens
at Pokolbin runs until 26 January 2017 except Christmas Day. Gates open at 6:30pm with the light and sounds displays kicking off at 7:30p.m until 10pm.
, large quantity of led string, LED sculpture are customized from our factory. And most of them are designed by park, and the audience will enjoy the unique and wonderful night here.
The light displays showcases many different themes including the Nativity scene, Australian animals, Candyland and Fairy Garden and lots of Christmas trees.
Each year, Christmas Lights Spectacular adds more displays. New exhibits this year include Christmas Around The World with iconic landmarks lisuch as the Eiffel Tower, Sydney Harbour, Coliseum and the Statue of Liberty.
The first is the 12 Days of Christmas music and light display in the Border Garden
. Spend some time here watching the images light up while singing along with everyone else to this much loved Christmas carol.
Another is Cinderella's Castle which will be a favourite for anyone who loves this beautiful princess.
The Mega Trees are awesome with synchronised lights and sounds. The dance music just makes you move.
It's always a big fan of the Sunken Garden with its Sydney Skyline and waterfall. This popular attraction changes colours to a backdrop of a range of Christmas music. It's worth spending a bit of time here to enjoy the changing lights and music.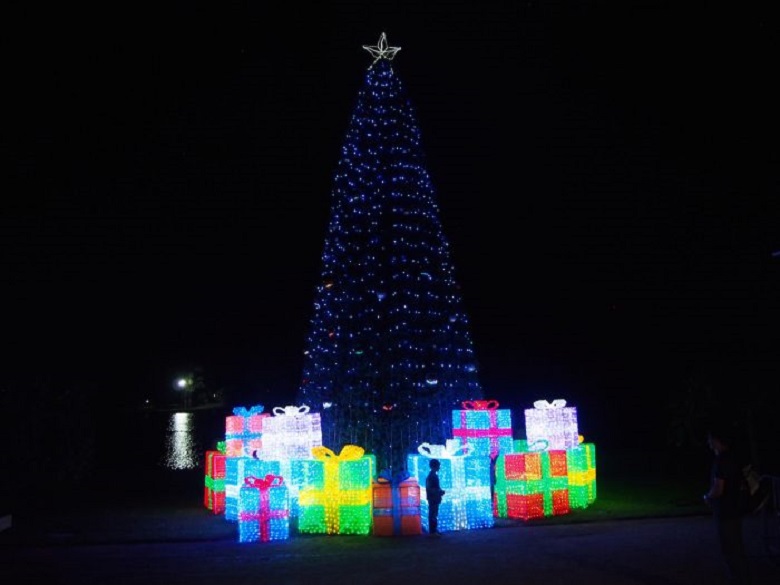 We provide customers with an infinite range of 2D and 3D elegant, giant and crossable LED decorations able to give life to urban spaces, shopping centers and events.
Our design office works with passion and deals everyday with the market and with the specific customers' requirements so as to creat personalized products and decorative solutions in line with the expectations.
The origin of Rayer Lighting products follows a specific path: every idea takes place with digital renders and graphic drafts, which are verified by the production department and finally transformed into veritable technical designs ready to get into full production process.
Have a look at our catalogue to find out more!